Caring For Your Outdoor Spaces
As the weather warms up, we look for ways to spend more time relaxing and entertaining outdoors. But goodness that deck or patio looks like it has seen better days!! What to do?
HGTV.com has a short list of do's and do not's that will help any homeowner decide what steps to take to get ready for outdoor entertaining.
DO seal your wooden deck every couple of years.
DON'T sand the wooden deck before sealing unless it is absolutely necessary! If you do sand it, be prepared to put on three coats of stain before you seal it.
DON'T paint your deck. If you want to add color to your deck, consider stain instead of paint. Stain will fade instead of peel.
DON'T seal your patio or other stone hardscape unless you want to create that wet look and are prepared to reseal it at least every two years.
DON'T wash your deck too frequently or with strong chemicals. Wooden decks need occasional washing, but scrubbing and power washing or even just washing with plain water too frequently will damage the wood.
DON'T over wash a stone patio either! Natural stone tends to flake and cleaning too frequently can actually wash away the surface! For best results wash your stone patio only when needed.
DO be careful when power washing. Too much pressure can damage wood, stone and concrete. If you power wash your deck, be sure to seal it as soon as it is dry.
DON'T use a wire brush to scrub stains out of wood, concrete or stone.
DO sweep away dirt and leaf debris regularly. Regular sweeping can prevent mold, rot, and stains.
DO rearrange your outdoor furniture at least once a year. Moisture can get trapped under furniture. Rearranging furniture and outdoor rugs prevents moisture from building up and causing problems.
DON'T use bleach to clean your deck or patio.
DON'T get harsh chemicals on nearby plants, furniture, or fabrics. Even dilute chemicals can kill plants and damage fabric. Try to remove all plants and fabrics from areas to be cleaned, but if not possible try to protect them the best you can.
DO fix nail pops, split wood and missing boards as soon as you can! As deck boards age, they expand and shrink, come loose, split and otherwise deteriorate. Replacing the damaged boards keeps your deck in top shape and prevents splinters and scrapes on you and your guests.
DON'T ignore stress points on railings and stairs. Checking for signs of rot and loose boards is a great idea. A splitting board can quickly become a safety issue. Prompt replacement prevents accidents.
DON'T worry about imperfections in concrete. Hairline cracks in concrete are perfectly fine. There is no reason to worry about them or try to fix them. If the concrete split is wider than a quarter or actually displaces one side of the concrete lifting it so that it poses a safety issue, call a local concrete company for an evaluation. Efflorescence, the whitish film that develops on the surface of concrete is also something that happens naturally and does not require a "fix".
DO use saucer pots or liners under your potted plants. Water stains and mold or mildew can build up under plants. To prevent this use saucer pots or liners under your plants. This will help keep the area clean and stain free.
Enjoy your outdoor spaces this summer!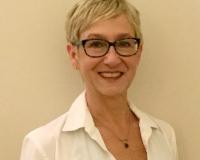 Author:
Cary McGregor
Phone:
919-455-8265
Dated:
March 26th 2017
Views:
94
About Cary: A native of North Carolina, Cary grew up in the Triad and has spent most of her adult life in the T...